DIY candles is a craft, but I also like to think of it as an art form. There are so many aspects of candle making to learn, and so many variations to try your hand at. I've been making a lot of candles over the last few years, and I've racked up quite a few posts on them as well. So I thought I'd delve into the archive and pull out my very best work.
Whether you're completely new to DIY candles, or if you're an aficionado, there's bound to be something in the list that will intrigue you. Ultimately, I like to think of my posts as a means of inspiring your creativity. I always want to give you the tools and knowledge you need to make every craft your own, with your own unique spin on it. Nowhere on SavvyHomemade, except perhaps my soap making section, is a better example of this than making candles.
Because I'm so indecisive, it took me a while to figure out the order of these posts, but in the end, decided to start with the basics. The further you go down, the more advanced the post will be. So basically, if you've never made a candle before (don't worry, you'll be a pro in no time), then start at the top!
Candle Making – A Guide For Beginners
Let's kick things off with the only guide you'll ever need to get started with making candles, 'Candle Making – A Guide For Beginners'. DIY Candles seem amazingly simple before you give them a try and discover how much can go wrong! This shouldn't put you off. You've just gotta familiarise yourself with the basics, and this post has you covered.
Candle Making – A Guide for Beginners is a rather thorough introduction, it's a great place to start if you've never made a candle before and lays the groundwork for the more complicated candle making techniques to come. This post includes a series of tutorials, as well as using photos to better help you understand the principles of candle making.
It discusses the different pieces of equipment you'll need, and of course, the material supplies you'll need to get your hands on as well (e.g. candle wax). I also go on to discuss the basic types of candle molds (one of the most important pieces of candle making equipment), and how to go about using them.
I also talk about how to go about properly wicking a mold, which can be a bit tricky when you first get started. While I discuss wicks in much more detail in a different post (which I'll also talk about today), this post gives you what you need to get started. I'll also go over the basics of how to give your DIY candles a lovely color using various candle dyes, as well as how to use fragrance oils to make your candles smell amazing.
I have to say, I would have absolutely loved an in-depth guide to the basics when I first started. I probably made 5 candles before I managed to find a way to deal with sinkholes (where your DIY candles sink in the mold around your wick), which I also discuss in this post. Definitely worth a read, if I do say so myself.
A Complete Candle Wicks and Wicking Guide
Remember when I said I had a more detailed guide to candle wicks and wicking? Well, this is it! 'A Complete Candle Wicks and Wicking Guide' is your gateway to mastering the principles of wicking, as well as some more advanced techniques.
DIY candles wouldn't be the same without wicks. Well, without them, they wouldn't be candles at all! But they're also one of the most complicated aspects of making candles. Choosing what type and size wick we need to use for a specific candle can be a headache. I designed this post to help you select the right wick to keep your candles burning safely and evenly, every time.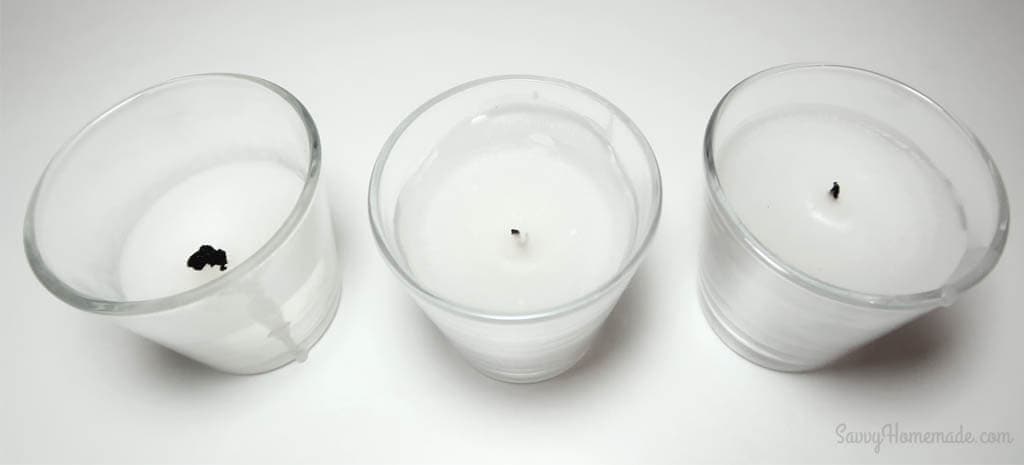 I'll also show you how to have some fun with your wicks, teaching you the basics of how to use more than one wick in a candle, or 'multi-wicking'. But I also detail how multi-wicking is more than just ascetics. This technique can be used to avoid making use of single, thicker wicks in larger DIY candles, and I explain why this can be beneficial.
There's also the use of more, shall we say, unorthodox wicks? I bet you've seen those gorgeous wood wick candles that crackle as they burn. If you read this post, you'll find that they're actually pretty easy to whip up yourself, from the comfort of your own home!
How To Make Scented Candles From Scratch
I wrote this post for various reasons, the most important being my love of playing around with fragrance oils and essential oils! 'How To Make Scented Candles From Scratch' is designed to build upon the understanding of candle aromas you will have gained in candle making a guide for beginners.
I compare and contrast the differences between fragrance oils and essential oils, how they can impact our DIY candles. More importantly, I also discuss what it means to 'build a scent profile'.
While dumping a bit of vanilla fragrance oil in a candle is all well and good, you can definitely go further than that. By building a profile of aromas, you create complex scents that have significant depth. Plus, it's super fun!
I also have another DIY candles tutorial as part of this post. While it isn't all that original, it's a good way to set the use of fragrance oils in the context of a wider candle project. Definitely worth a read as a whole.
How To Make Soy Candles That Look And Smell Amazing
So Yankee Candle is, as always, super popular. I totally get the fascination with them. There are so many different fragranced candles to choose from! But, and it's a big but, they're so damn expensive! Who has the money to waste on such luxury items? I certainly don't. 'How To Make Soy Candles That Look And Smell Amazing' was written to save you money, but also brighten up your home with some lovely DIY soy candles!
This post was dedicated to replicating that gorgeous store bought soy candles. While it may seem simple at first, a lot goes into making one of these bad boys. For starters, there are the considerations we need to make concerning the use of soy wax. Soy doesn't act the same way as other waxes. For example, it's much more difficult to color this type of wax.
Furthermore, soy wax is very difficult to use outside of a container. Molds are almost useless here. Nevertheless, I discuss how it can be possible to use a soy blend without a container, as well as other pros and cons of using soy wax.
This post is definitely for you if, like me, you're one of those candle nerds that want an expensive candle in every room. I like to think of myself as now 'reformed', and I'm saving so much money just making my own!
How To Make Beeswax Candles With Luxurious Aromas
Ever thought about making the most luxurious candle you could possibly imagine? I have, and that's what 'How To Make Beeswax Candles With Luxurious Aromas' is all about. Well, kind of. Beeswax is the most expensive wax you can buy for making candles, and it's also one of the most natural.
This, coupled with the use of gorgeous essential oils, really can make a candle feel like a luxury item! But they're not totally out of reach of the average joe like you and me. It's whipping them ourselves which makes them affordable, rather than paying through the nose for store-bought alternatives!
There are some issues with working with beeswax, though. I detail everything you need to worry about, from coloring to how they look in glass jars. I also show you how to make tealights as well, a technique which you can apply to pretty much any type of wax you can think of!
If you're looking to make the perfect DIY candles to gift or sell, I'd definitely take a look at this post, I doubt very much you'll regret it!
How To Use Silicon Candle Molds Like A Pro
Getting bored of the standard pillars or pouring molten wax into glass jars? So was I, until I discovered silicon molds. 'How To Use Silicon Candle Molds Like A Pro' will teach you the ins and outs of these cool candle gadgets. It might just reinvigorate your interest in making candles, it certainly did for me.
Silicon molds give you way more freedom to create interesting and artisan candles. Candles in the shape of people, animals, flowers, plants, beehives and… pretty much anything, are possible with these flexible molds, and in this post, I teach you how to use them!
I discuss how to prepare your mold, as wicking can be tricky considering these molds aren't always designed for candle making. There's also the issue of getting the candle out of the damn thing when you're finished! But don't worry, I've tried my best to make it as painless as possible! A great post for anyone looking for more advanced techniques.
A Gorgeous DIY Coffee Bean Candle With Real Coffee!
So now we come to a more advanced technique of embedding objects within your candles for aesthetic purposes. I love doing this, and it's actually a lot easier than you might think. If you're getting good with candle making, definitely give this a try! My post entitled 'A Gorgeous DIY Coffee Bean Candle With Real Coffee!' teaches you this technique using coffee, but you can use so many different things! Like I said earlier, it's all about your own creativity and ingenuity.
I also discuss how you can make this candle your own, embedding whatever you fancy until your heart's content. It's important to remember that all my DIY tutorials are subject to your own creativity and ingenuity. If you wanna make changes, go for it! Experimentation is the key to all new breakthroughs!
This is also a good example of how fun it is to build a scent profile. I find a single fragrance, while nice enough, doesn't quite cut it for me anymore. I like aromas with depth and complexity, and my combination of fragrance oils in this tutorial is exactly that.
My coffee bean candle craft is sort of an expression of where I'm at right now with candle making. I'm starting to push my own boundaries and move into more advanced aspects of the craft. You can expect plenty like this in the near future!
Final Thoughts
Making candles is an extremely rewarding endeavour, and I hope it's the same for you! I love the sense of satisfaction it gives me, watching the wick burn and the candle wax melt thinking 'hey, I made this myself!'. I also like to think it helps us get back to our roots. Things like candle making (but also soap making, jewelry crafting, beauty recipes and pretty much everything on this site) aren't new things.
They're techniques that have existed for hundreds and sometimes even thousands of years. I never feel more connected to where I've come from and as a human being as I am when I'm making my own homemade things.
Anyway, I'm going off on a tangent, so I won't keep you any longer. Don't forget that we've started pumping out more and more videos on our YouTube channel, and I'd be very grateful if you were to give us a like on Facebook if you have the time. Also, subscribe to our newsletter so that you're the first to hear about all our new crafts!